A fire destroyed the Jagger Library in April 2021.
The library's teams mobilize to organize the rescue of the collections, thanks to volunteers and members of civil society.

Spontaneous donations were collected from companies and communities around the world.

The collections are put in safety but the loss is great…
→ The work of inventory begins.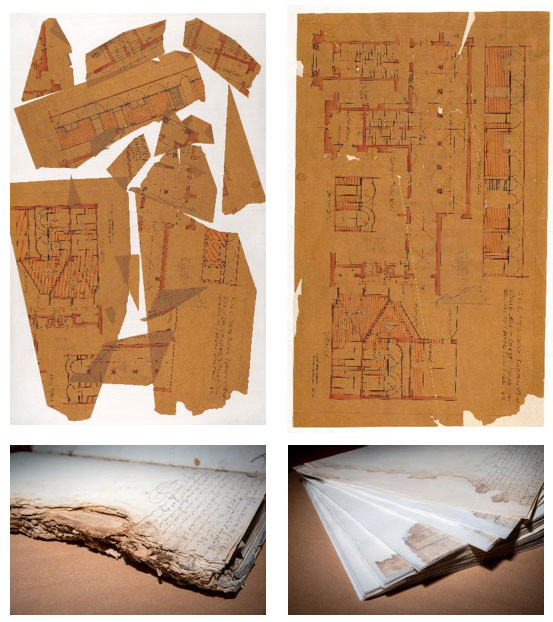 How to continue to carry out its missions
In order to continue to make the collections accessible, the library wished to preserve and digitize Herbert Baker's collection of prestigious architectural drawings, comprising approximately 11,000 original maps and drawings.
The documents have been severely altered by time and require extensive preparation for digitization to ensure their durability and optimal capture quality.
→ The combination of several know-hows is required: MEMORIST offers the services of its French experts from La Reliure and Arkhenum to carry out this mission.
Limitation of the risk of deterioration through an on-site service

Transfer of competence considered

Cost reduction through a global solution

Agile project management in symbiosis with the principals and those responsible for the collection (archivists, curators, …)
Success will depend on the ability to master two elements: the rapid and efficient training of local teams; and providing rigorous logistical support for the material (Japanese paper, heritage scanners, glues, etc.). The team then deployed an in-situ workshop with archivists, conservators and heritage digitization professionals who worked together on training, not on implementation. This required setting up a restoration workshop of 4 people, totally new to the process, trained in exceptional know-how and a digitization workshop of 3 people with 3 different scanners to cover all the formats encountered (A4 to A00).
For the digitization workshop: Each type of document was digitized on a scanner adapted to its specificities (format, texture,…) with a high level of quality for a reproduction on a scale of 1 with a particular attention on the colors (watercolor plans). In addition, the insertion of descriptive metadata has made it possible to easily find the digital documents in the databases.
For the restoration workshop there was a double objective. Firstly, to improve the quality of the image (digitization of all the information) and secondly, to mitigate the damage caused by poor handling. The classical steps followed: Dusting, cleaning; Reassembling the pieces in a logical order; Localized and full lining; Flattening.
The collection can then be treated as a whole without discarding some very degraded documents